Innovation
Production rebalancing easier than ever before
A new platform concept makes production changes easy and adapts flexibly to challenges
If conditions change unexpectedly, manufacturers can be faced by sudden shifts in demand and changes in sales. Companies who can react immediately to rapidly fluctuating batch sizes, drastic changes in the variants ordered and shorter production cycles have an advantage.
---
This is where Smart Connected Assembly, already presented by Atlas Copco at its roadshow "Smart Connected Assembly – powered by Data" in 2019 comes into its own. SYN shows how the flexible new platform concept One Platform – Any Tool allows users to adapt quickly to new situations and to adjust processes to changing requirements almost on a real-time basis.
Advantages of modern production
The automotive industry currently plays a key role in the development of production and assembly processes as it faces increasingly stringent environmental requirements, tough competition and the introduction of alternative drive systems. The steadily growing number of models and variants calls for higher flexibility, with car manufacturers rapidly approaching the vision of "Mass Production One", i.e. production with a batch size of 1. In addition, the production of several different models ranging from sports cars to estate cars and SUVs on a single production line is almost standard practice. For example, BMW already produced various models of the 1 series (3- and 5-door models, the 3 series sedan and the M3 sedan, the BMW X1 and X2, the 4 series convertible, the M4 convertible and the 2 series BMW GranTourer on the same line at its Regensburg plant in 2018. At such modern production plants, assembly tools guide users through the production process and document all the relevant data traceably, transparently and automatically.
Companies in the agricultural equipment industry also produce a variety of harvesters on a single assembly line. Sectors such as aerospace or wind turbine manufacturers are modernizing various production facilities in a similar way, although the production figures are of course lower.
Growing complexity
It is not only since the "Smart Factory" and Industry 4.0 that industrial assembly has become increasingly complex. However, these developments have accelerated the process. This may be both a blessing and a curse. On assembly lines, many different systems now operate in parallel. This causes the greatest headaches for many production managers: tools of a variety of different types supplied by many different manufacturers need to be programmed and managed by the higher level Manufacturing Execution System (MES).
Tremendous challenges
Mastering this highly complex conglomerate is a tremendous challenge that calls upon companies to provide knowledge, time and capacities. This is essential but also increases the overall cost of production because each program adjustment and each interface calls for both human and financial resources. Nevertheless, it is difficult to keep a good overview if an unforeseen disturbance occurs or the situation changes. Normally, a malfunction or rebalancing of the production line pose similar tasks. In both cases, a team of specialists needs to explore a virtual jungle of different systems in order to ensure that the communication protocols of all the components connected function properly in a harmonized way.
Cost pressures
Even in the best possible case, where new tools can be connected to the controllers already installed on the line and these controllers can operate all the communication protocols required, a change in production cycles can still cause costs amounting to €1,500 per tool/station over the course of a year.
Now is the best time
The planned restart of a production facility or the introduction of a new product may be an appropriate time for a consistent changeover. This changeover can mean that a company no longer needs to continually adjust a large number of controllers to keep them up-to-date. In an environment characterized by a growing number of variants and smaller batch sizes, the cycle changes mentioned above will inevitably occur more frequently. Companies who can adjust their production lines efficiently will benefit.
One for all – Virtual stations replace controllers
Atlas Copco Tools offers a physical and software solution. With the Power Focus 6000, all the tool types needed at an assembly station can be operated and the relevant production data seamlessly recorded with one single controller and one single point of contact with the MES system. All communications run via a standard software suite on a uniform user interface, considerably simplifying software management. Virtual stations are used for information interchange. These are virtual controllers within the controller itself. A virtual station controls the tool and each tool connects up to its own virtual station. From the point of view of the Manufacturing Execution System, this configuration is similar to a connection to several controllers and tools, but with considerably less effort and material.
Significant benefits
The benefit to the customer is clear: easy adaptation to smaller batch sizes, rapid rebalancing or the virtual shifting of entire production sections can be implemented without any problems.


Make way!
The Power Focus 6000 all-round controller is prepared to meet a variety of documentation and error monitoring requirements and reduces the complexity of systems and processes. With full documentation security, this universal controller can control 12 tool types and accessories, more than any other controller, and can replace six units of the previous generation. This literally creates more space because virtual stations and controllers do not need any physical space for installation on the production line, in contrast to physical controllers.
One Platform – any Tool = All joint classes firmly under control
Using the Power Focus 6000 as a platform, users can always perform their assembly tasks with the ideal equipment to any quality level required. All applications where parts are tightened to each other require specific tools defined by a number of factors such as precision specifications, tightening strategy, etc.
In this context, the question of joint classification in accordance with the requirements of VDI/VDE Code of Practice 2862, Part 2 also arises.
If we are "only" dealing with a customer-critical tightening operation (corresponding to joint class C), relatively simple reporting clutch toolsare adequate. As the joint becomes more important, more demanding, high-performance tools must be used for quality-relevant tightening operations (= class B) or safety-critical operations with possible impact on life and limb (Class A).
The Power Focus 6000 is suitable for all requirements, quality stages and joint classes; the One Platform concept therefore offers considerable benefits for the future in this area too.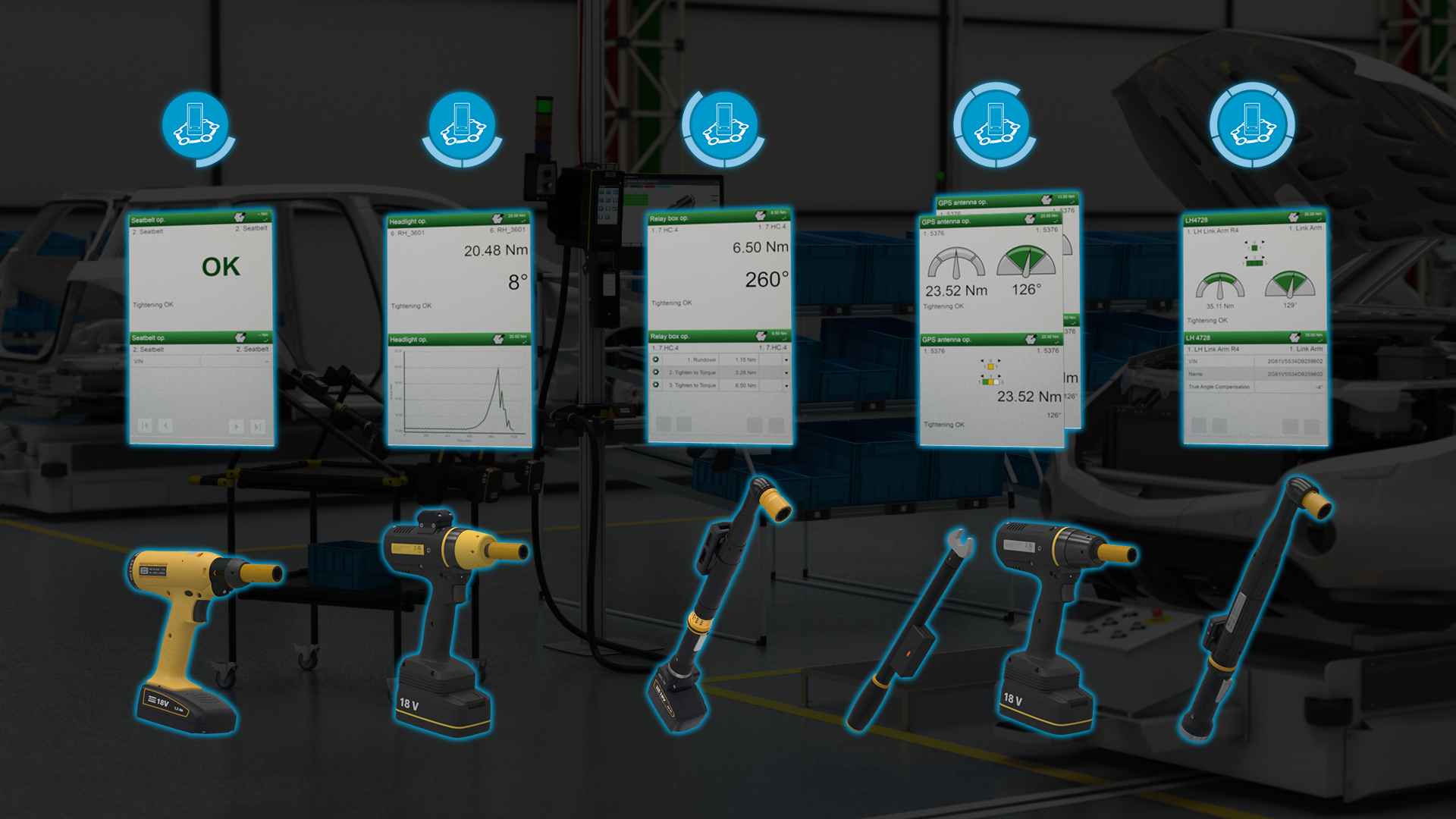 The One Platform – Any Tool concept from Atlas Copco meets all the requirements for joints ranging from customer-critical (class C) joints tightened with reporting clutch tools via function-critical joints (class B) to precision assembly work on safety-critical (class A) joints, with the associated monitoring and supervision functions.
Lower cost, more flexible assembly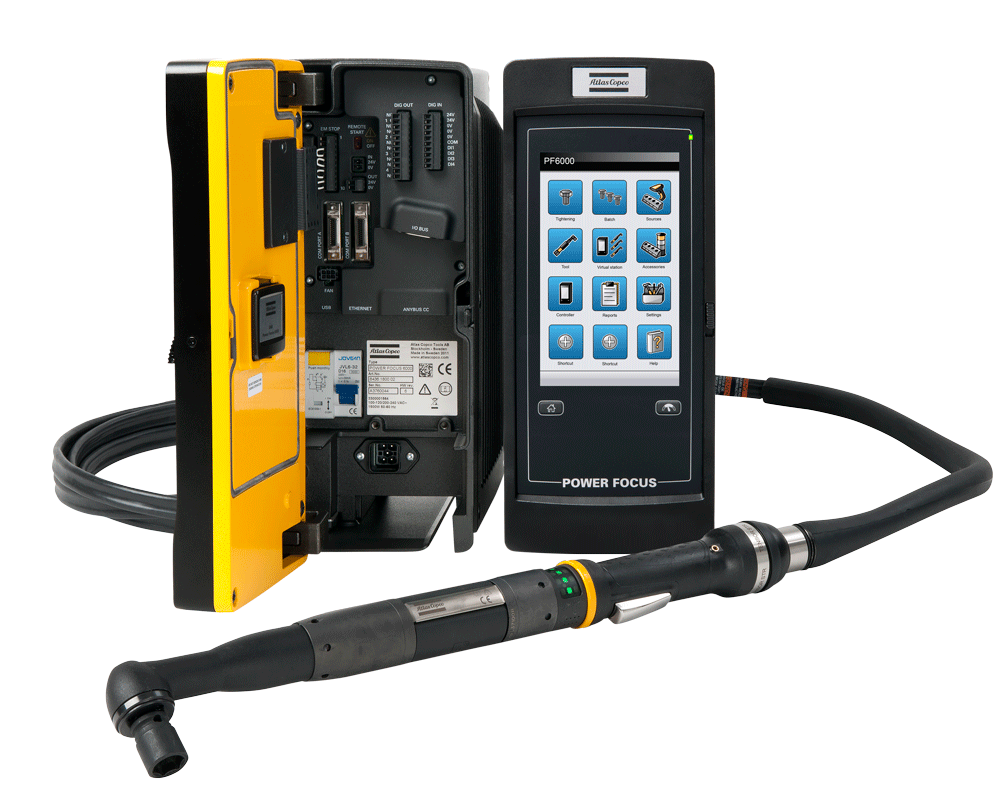 To date, the re-balancing of a production line has normally called for a variety of different resources. For a cycle change, production planners need the support of other specialist departments for electrical planning, mechanical adjustments and IT changes. On the line itself, electricians, mechanics and maintenance operatives often need the support of external craftspeople and service providers, which is also reflected in the cost of the work.


The One Platform – Any Tool concept helps to significantly reduce resource requirements as well as the time needed for rebalancing. If new products are to be added to an existing production line or certain assembly stations are to be temporarily relocated to meet changed production requirements, production managers no longer even need to leave their desks. Thanks to the One Platform concept, the previous complexity of data interchange, cable management and mechanical adjustments is a thing of the past. Parameter sets can now be changed from any location and cables can be installed virtually on site without deploying electricians. The use of virtual stations provides considerable flexibility with minimum cost. Apart from avoiding costly investments, the number of physical controllers and interfaces actually required is drastically reduced. The high degree of commonality also reduces the need for spare parts stocking and personnel training. In the final resort, this makes assembly even more reliable and economical.

Dynamic further development of the platform concept
"With the IxB tool generation, we have relocated the entire intelligence of the system from the physical controllers to the mobile tool. This provides a whole host of benefits in a number of different areas," reports Michael Kierakowicz. The product manager for EC assembly tools at Atlas Copco Tools in Essen is preparing for the market introduction of these documentation-capable cordless nutrunners with integrated transducers. "The first cordless nutrunners from the IxB product family will be commissioned during the next few weeks and will take the One Platform concept one step forward by making the relocation of controller hardware and cables entirely superfluous – just like accessories such as cordless bit magazines.""
IxB tools allow even faster reactions and greater flexibility in assembly. Atlas Copco Tools is adding this latest innovation to its assembly ecosystem from the second half of 2020.
Controller on board
In the past, problems often already arose with the installation of conventional control systems. In many cases, commissioning could be delayed by relatively simple things. "Problems included the lack of the power supply required, network cables and connections or a lack of the space needed to install a controller on the production line," reports Michael Kierakowicz. He says that the controller on-board function makes commissioning easier. Initial comparisons show that the time saving may be up to 80 percent. "The problems I have mentioned no longer arise and the reduction in time requirements allows considerable cost savings," Kierakowicz emphasizes.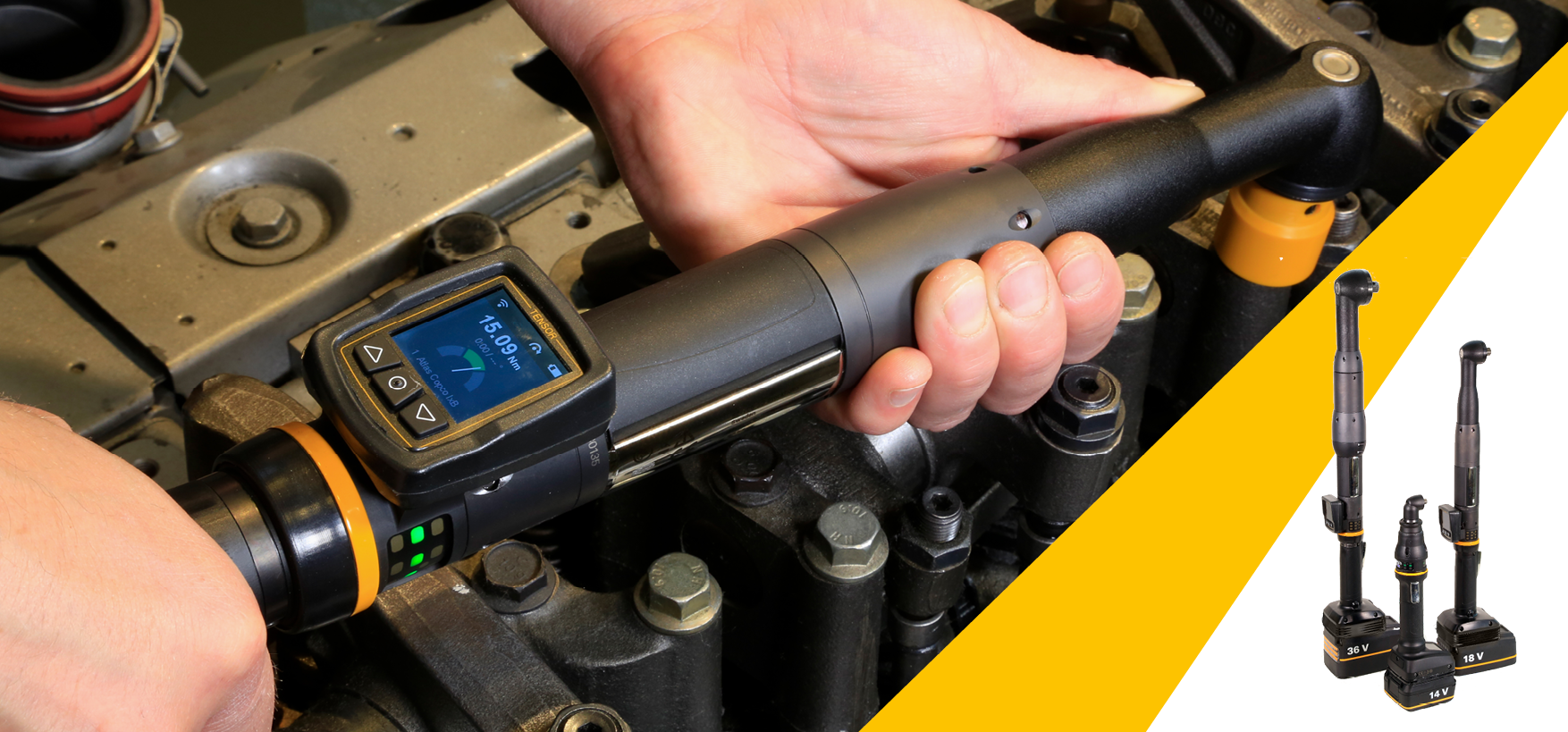 The IxB series includes the documentation-capable cordless nutrunners ITB (to the left and right in the background) and ICB (at the front).
What makes IxB technology different
"During the production process, fluctuations in demand may call for changes to production lines – line re-balancing. The controller on-board function makes it easier to restructure the line as no physical hardware needs to be relocated from Station A to Station B. This way, users save time and manpower that can be invested in other value-creating activities." The manufacturer promises unprecedented leeway for the configuration of production. "It may sound very unusual but IxB technology really allows line re-balancing over the weekend or overnight." The product manager describes one of many scenarios that are now possible: "The assembly team at a car factory come to work at the start of their shift and can move to a new station with their tools in order to assemble a new model." The team members know precisely what to do at the new station because the nutrunners are connected to a worker guidance system. The system provides all the key information needed by the production personnel, including model variants and work steps.
Fully functional even in WLAN dead spots
EAccording to Kierakowicz, the fact that these handy, ergonomic units continue to function without any restrictions even in the case of WLAN disturbances is a key benefit: "The integrated nutrunner controller stores all the data received from the MES system, which means that the nutrunner has all the information required to complete its assembly tasks without a WLAN connection. The on-board buffer can store up to 1,000 results including tightening curves and forward them as soon as an adequate signal is available."
The ecosystem for bolted assembly
"With an IxB tool, workers have practically the entire Atlas Copco ecosystem in their hands," Michael Kierakowicz emphasizes. This ecosystem is probably the most comprehensive portfolio of assembly hardware, software and services. It helps manufacturers to continuously work more economically in a sustainable way: "Do you need a special tightening strategy for a new variant, possibly to make full use of the yield strength of the fastener? No problem, users can simply order the additional function via our online portal at any time. Or are you trying to track down dead spots? This is also possible with our patented Wi-Fi analysis function, which helps you identify areas with poor coverage. This is what we mean by innovative assembly technology. We are committed to following this approach together with our customers."

---
You will find further information in our leaflet: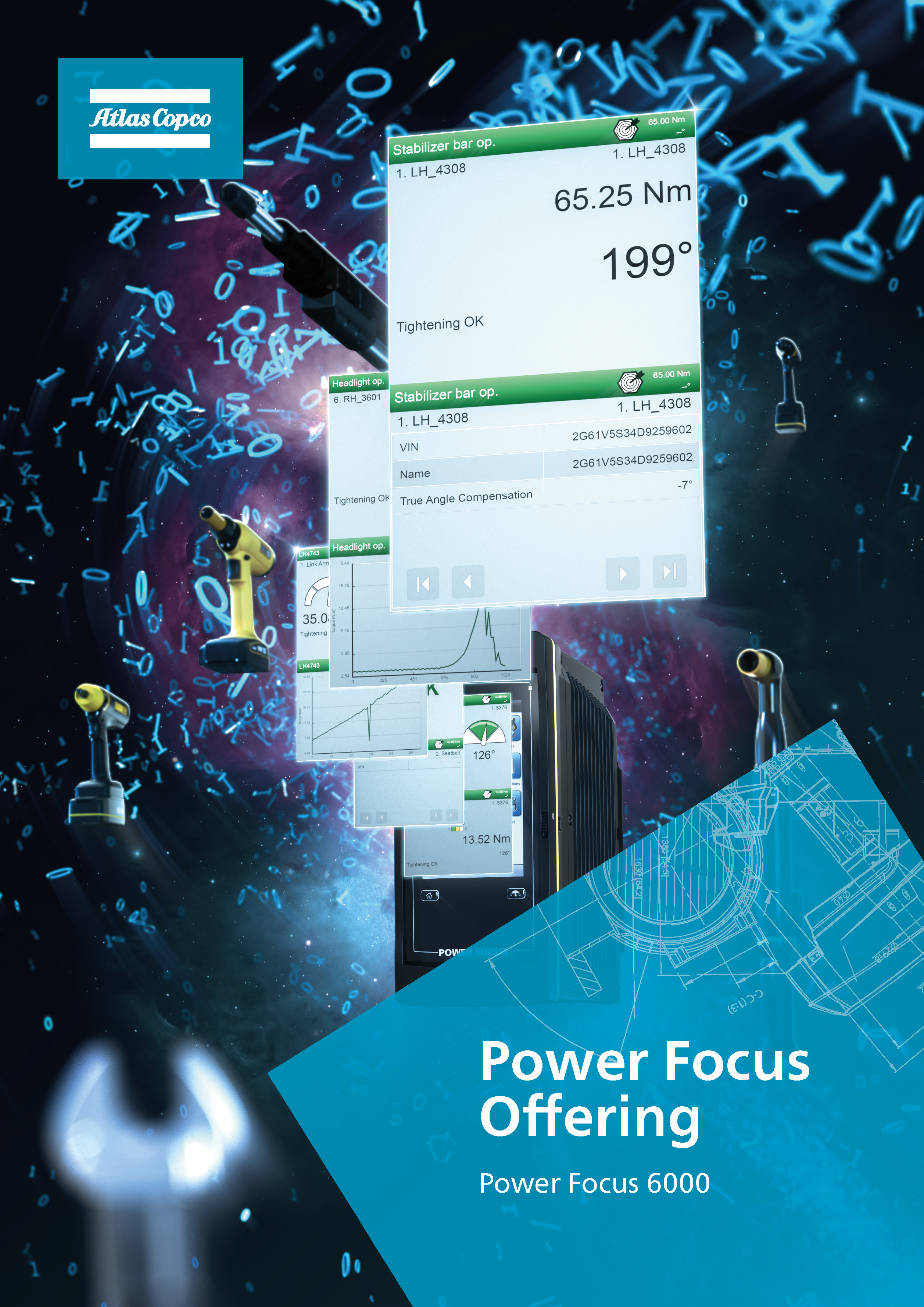 1. data status 2019, determined for one German and one Western European car manufacturer. Cost data based on an assembly situation with one control unit per screwdriving tool.