Adhesive bonding and dispensing
Dynamic developments call for innovative partners
Flexibility as a standard
Each sealing, potting or adhesive bonding project is unique. Each component and each product poses different challenges for the equipment used. To obtain ideal results, the dispensing process must therefore be considered in a holistic way and the appropriate system must be selected for the workpiece and the potting resin used. Factors such as the specific dispensing task (contour, potting, etc), the cycle time, quality requirements and the process environment also play a key role in the design of the optimum dispensing solution.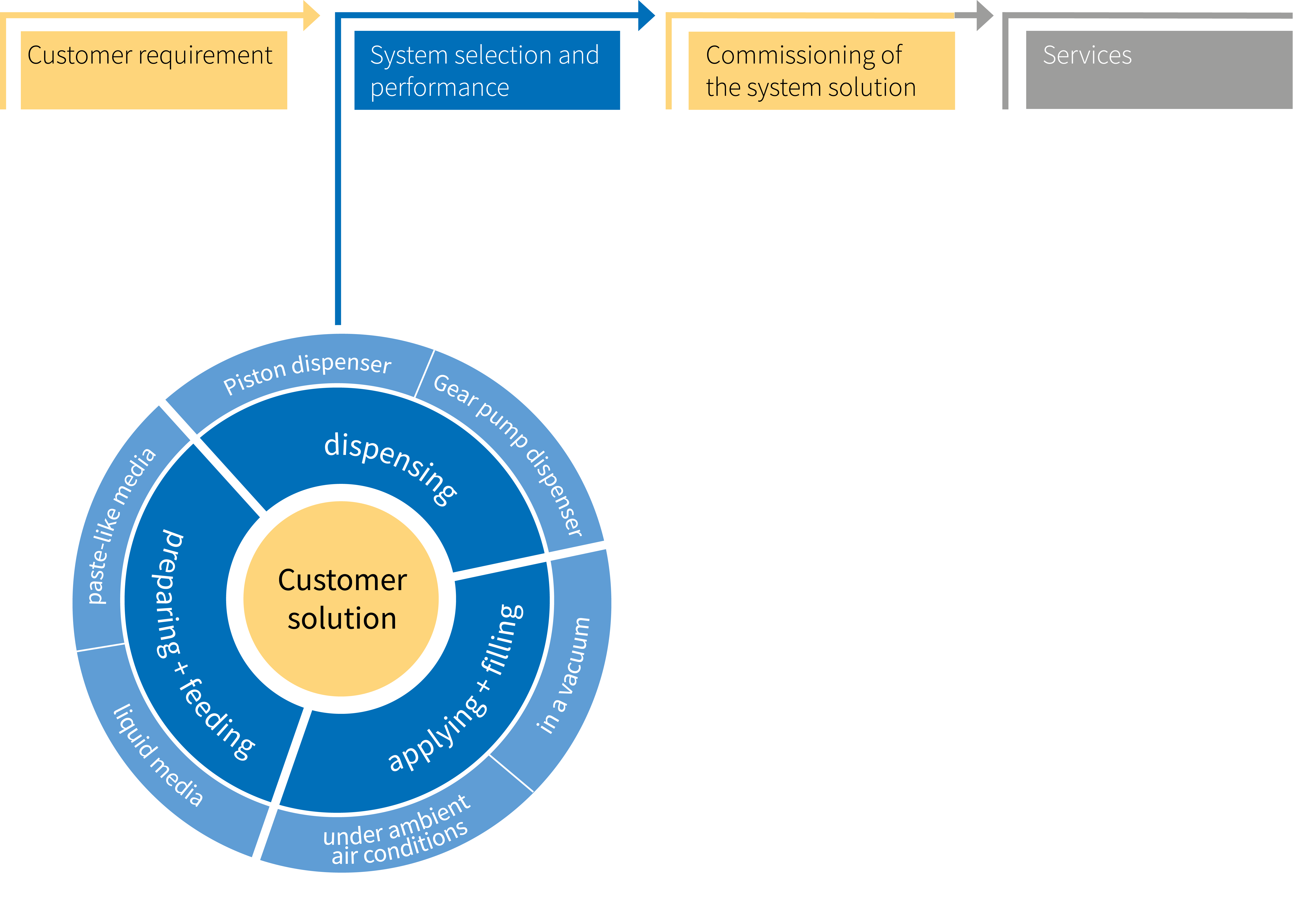 To ensure that costs do not get out of hand with so much customization, we have developed a system of standard modules. Individual processes can be taken from the system and combined in line with your individual requirements – without deviating from the standard. On the basis of your specification and the material to be used, we can select the most appropriate components from the modular system and combine them in an appropriate system solution. Material preparation, feeding and dispensing as well as process automation are harmonized with each other in the ideal way. Further developments are also continually included in our solutions.
With the system solution for self-leveling media, a large number of individual dispensing tasks ranging from adhesive bonding via sealing to potting can be realized..

Customization – when standard solutions are not adequate
Some adhesive bonding, sealing and potting projects pose challenges that cannot always be mastered using standard solutions. We therefore use customized solutions to meet the highly individual requirements of our customers. On this basis, we have developed comprehensive expertise in process automation connected with our core competences in dispensing technology as well as material preparation and feeding over 30 years of market activities.
Fully automated production line for the adhesive bonding and joining of automotive displays
The portfolio of upstream and downstream process stages that can be supplied ranges from component and position detection via surface cleaning to quality assurance systems and system integration. It is not only a matter of optimally realizing these processes individually, but rather of mastering them together and in combination with standard solutions. This way, we create tailor-made solutions – from semi automated systems plants through to fast-cycle high-performance lines.
On the rotary table with five process stations, the display and the metal carrier are precisely aligned and joined.
Practical example: production line and rotary table for the adhesive bonding and joining of automotive displays
This fully automated production line for the automotive industry was designed for the high-precision adhesive bonding and joining of displays. It consists of four processing and dispensing cells connected in series as well as a rotary table with five process stations. Different display variants can be assembled on the line with very little set-up effort. To maintain the cycle times required, the cells are connected via a double belt conveyor system. This allows two components to be processed in alternation – without idle periods resulting in longer cycle times.
On the rotary table, two robot arms with specially designed grippers ensure rapid but gentle handling of the display and the carrier.
Continue to read article